Smart equipment, smart IoT, system design, and services go to the world
MH Robot & Automation Co., LTD. is a high-tech enterprise focusing on providing users with intelligent equipment systems, intelligent IoT systems, planning and design and EPC services. Set up two wholly-owned subsidiaries in Jinan and Tianjin: Maihe Univer (Shandong) Technology Co., Ltd. and China Automobile Maihe (Tianjin) Engineering Design and Research Institute, with branches in Qingdao, Jinan, Weifang, and Wuxi.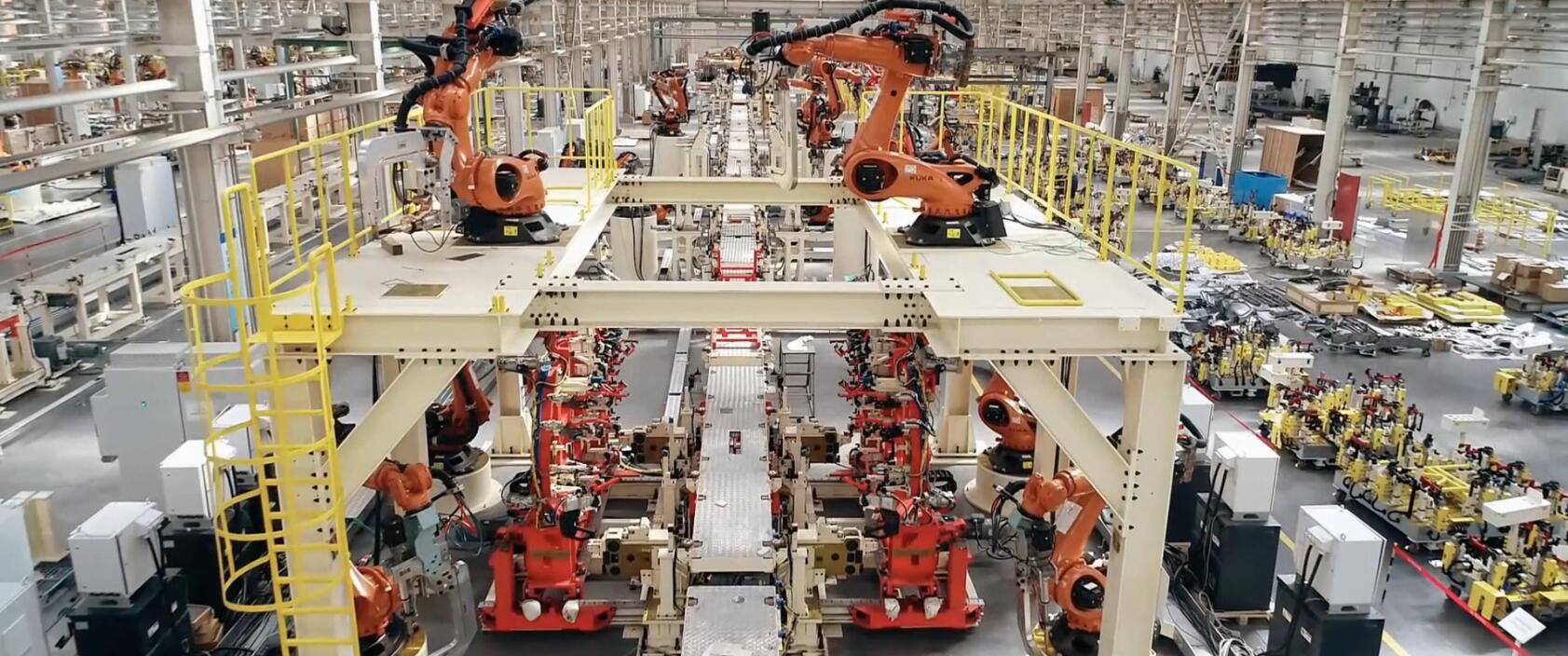 HONOR
National High-Tech Enterprise
Demonstration enterprise for the implementation of the national integration management system of industrialization and industrialization
The undertaking unit of the national industrial revitalization and technological transformation special project
Postdoctoral Research Workstation
Director unit of Shandong Robot Industry Technology Innovation Strategic Alliance
Provincial Industrial Design Center
Shandong Province One Enterprise One Technology R&D Center
Shandong Intelligent Conveying Equipment Engineering Technology Research Center
Shandong Gazelle Enterprise
2015 Shandong SME Entrepreneurship Internet + Excellent Innovation Enterprise
Excellent Enterprise of Integration of Industrialization and Industrialization in Shandong Province in 2018
2021 Shandong High-end Brand Cultivation Enterprise
Shandong Gazelle Enterprise
Excellent Enterprise in Shandong Province
Leading (cultivating) enterprise of high-end equipment manufacturing industry in Shandong Province
2019 Intelligent Manufacturing "1+N" Benchmarking Enterprise
PATENT
Since its establishment, the company has continuously invested in technology research and development, focusing on talent training and technology research and development. At present, the company has more than 40 invention patents, more than 210 utility model patents, 5 design patents, and more than 20 software copyrights.
| | | | | |
| --- | --- | --- | --- | --- |
| NO. | Patent Name | Patent type | Patent No | Date of authorization |
| 1 | A car seat automatic handling and conveying system | Patent | ZL201910960174.5 | 2021/9/28 |
| 2 | Classification and identification method and system of indoor electrical equipment based on big data association analysis | Patent | ZL201810141174.8 | 2021/7/30 |
| 3 | A welding tool that is easy to adjust the angle | Patent | ZL202110039457.3 | 2021/4/30 |
| 4 | A logistics handling robot for industrial workshop | Patent | ZL202110039438.0 | 2021/3/30 |
| 5 | A hail disaster monitoring and prevention and control device and its protection method | Patent | ZL202110045328.5 | 2021/3/26 |
| 6 | A method and system for dynamic virtual configuration of Internet of Things devices | Patent | ZL201910033202.9 | 2021/3/23 |
| 7 | A rotary RTO rotary valve and a regenerative organic waste gas incinerator | Patent | ZL201910954281.7 | 2021/3/16 |
| 8 | A large carton paint mist treatment system and control method | Patent | ZL202110379929.X | 2021/7/9 |
| 9 | A flexible body storage conveying system | Patent | ZL201510665059.7 | 2018/4/27 |
| 10 | A data-based indoor environment energy-saving and comfortable personalized control system and method | Patent | ZL2014106651735 | 2016/12/7 |
| 11 | Coordinated control method and system for parallel operation of multiple elevators based on machine vision | Patent | ZL2015102795031 | 2016/10/5 |
| 12 | Automatic conveying system for large equipment coating line | Patent | ZL201510002474.4 | 2016/8/24 |
| 13 | Multi-model body-in-white combined welding assembly device | Patent | ZL201410575424.0 | 2016/3/18 |
| 14 | Multi-model car body total tailor welding fixture | Patent | ZL201210340462.9 | 2015/3/11 |
| 15 | A remote monitoring system and method for generator of communication base station | Patent | ZL2011103991676 | 2014/4/9 |
| 16 | A Person Information Fusion Method Based on Spiking Neural Network | Patent | ZL2011104063561 | 2013/11/20 |
| 17 | Distributed harmonic online detection system based on building equipment Internet of things | Patent | ZL201110146227.3 | 2013/8/14 |
| 18 | Air conditioner fault diagnosis system and method based on data fusion in the Internet of Things environment | Patent | ZL2011102078295 | 2013/1/2 |
| 19 | Multi-Agent-Based Indoor Power Saving System and Its Power Saving Method | Patent | ZL2010101065908 | 2011/12/7 |
| 20 | Building heating energy-saving system and method based on multi-agent technology and information fusion | Patent | ZL2010101062628 | 2011/7/27 |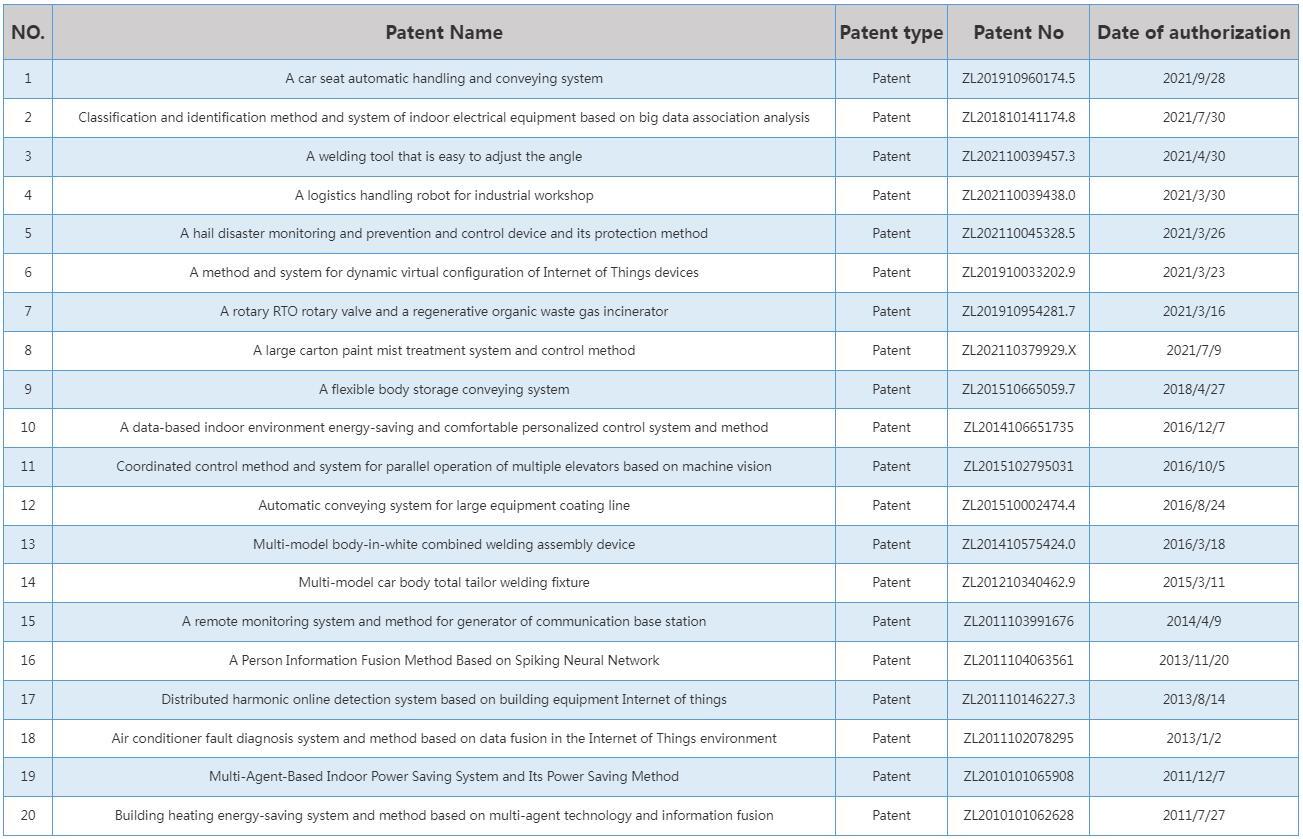 2021.12
---
Listed on GEM of Shenzhen Stock Exchange
2018
---
Intelligent Research Institute opens intelligent IoT business
2018
---
Intelligent manufacturing overall solution provider
2017
---
R&D, design, manufacture and sales of public power and equipment energy supply systems and intelligent environmental protection equipment systems
ADD
No. 1398, Shuntai Street, Zhucheng, Weifang City, Shandong Province
TEL
FAX
0536-6015555
E-MAIL